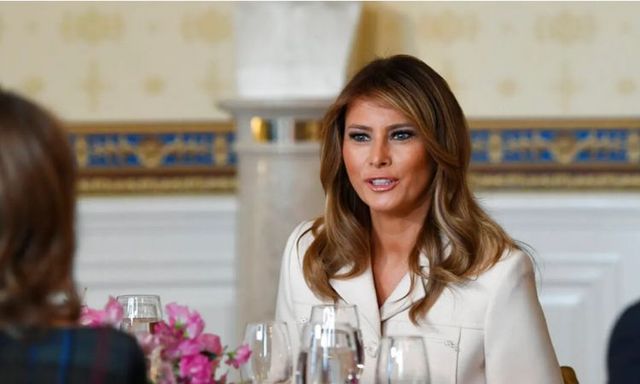 There's been plenty of speculation on the left regarding what Donald Trump was doing as his supporters protested on Capitol Hill on Jan. 6, 2021.
While no evidence has been presented that he encouraged any violence, much less a supposed insurrection, many Democrats nonetheless want him to face criminal charges.
His wife recently broke her silence on the matter and opened up about what she was doing on that fateful day.
On January 6, 2021, I was fulfilling one of my duties as First Lady of the United States of America, and accordingly, I was unaware of what was simultaneously transpiring at the U.S. Capitol Building," Trump told Fox News Digital.

"As with all First Ladies who preceded me, it was my obligation to record the contents of the White House's historic rooms, including taking archival photographs of all the renovations. Several months in advance, I organized a qualified team of photographers, archivists, and designers to work with me in the White House to ensure perfect execution," she continued. "As required, we scheduled January 6, 2021, to complete the work on behalf of our Nation."

The former first lady added that "this is a very significant undertaking and requires great care, attention to detail, and concentration — both in the planning and execution."

Trump went on to say that she has "always been very supportive of my former Chief of Staff, Stephanie Grisham."

"I stood behind Ms. Grisham after her failed stint as White House Press Secretary and welcomed her back to the East Wing," Trump said.
Her remarks came as left-wing media wanted Melania included in the hearings after the First Lady's Chief of Staff Stephanie Grisham, has claimed that her old boss refused to sign off on a statement condemning the Capitol incursion.
Melania Trump said "I always condemn violence" and that "had I been fully informed of all the details, naturally, I would have immediately denounced the violence that occurred at the Capitol Building."
The former first lady said Grisham was not where she should have been that day.
"Ms. Grisham was not in the White House on January 6, and her behavior in her role as Chief of Staff ultimately amounts to dereliction of duty," Melania Trump said, adding that "traditionally, the First Lady's Chief of Staff provides detailed briefings surrounding our Nation's important issues."
"In fact, Ms. Grisham failed to provide insight and information into the events surrounding January 6 as she had abandoned her post in Washington, D.C.," she said. "Shamefully, this behavior has only partially become public knowledge; yet was consistent for Ms. Grisham."
---
Social media censorship is suppressing the truth about the dangers of globalism and brutal cultures infiltrating the west. Please share this article wherever you can. It is the only way we can work around their censorship and ensure people receive news about issues that Democrats and the mainstream media suppress.
Scroll down to leave a comment below.
Subscribe to Our Newsletter