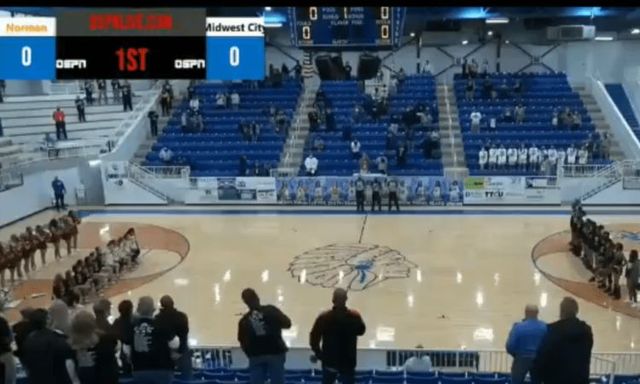 Trigger warning: the contents of this article contain graphic details and audio of a racial slur which our site does not support.
The announcer, who is contracted with the National Federation of High School (NFHS) Network, grew furious when Black players and others on the diverse Norman High Schools girls' basketball team chose to kneel during the National Anthem.
It all went down before the Norman HS girls hoops team faced off against Midwest City during the Oklahoma 6A state basketball tournament Thursday night.
Every player from Norman elected to kneel for the duration of the anthem … which led to the announcer's outburst on the National Federation of State High School Association Network's official livestream. Here's what we heard in the clip …
"They're kneeling? F***ing n*****s. I hope Norman gets their ass kicked. F*** them. I hope they lose. They're gonna kneel like that?"
By Friday morning, an NHS coach had shared the clip on Twitter, garnering nearly 10,000 views within an hour.
Video below:
Hey @NFHSNetwork looks like you forgot to cut the Mic!!! "F****** N******" is the one that really got me!! Tell us how you really feel!! THIS IS WHY THEY KNEEL!!!@Migliorino_Nick @tohara_o @NHS_AthDept @gonormantigers pic.twitter.com/mmWQAecLaF

— Frankie Parks (@CoachFParks) March 12, 2021
Norman Public Schools Superintendent Dr. Nick Migliorino released a statement Friday morning condemning the racist comments.
"We condemn and will not tolerate the disgusting words and attitudes of these announcers. This type of hate speech has no place in our society and we are outraged that it would be directed at any human being, and particularly at our students," the statement read.
Norman Mayor Breea Clark was even more direct. She released a statement on Facebook calling for an end to OSSAA's partnership with the National Federation of High School (NFHS) Network.
"I am livid and absolutely disgusted about the racist and hateful comments directed towards the young women on the Norman High School basketball team by a game announcer," she said on Facebook.
"Join me in calling for the OSSAA to end their contract with the National Federation of High School (NFHS) Network. Their employees do not need to be anywhere near children. Further, these young women and their team deserve a public apology from NFS and OSSAA. There is no place for this behavior in our nation, and certainly not in youth sports."
It's unclear what discipline, if any, will be handed down to the announcer or NFHS. Mayor Clark told theBWSTimes that as of Friday morning NPS was meeting with coaches and the city was assessing its options.
---
Social media censorship is suppressing the truth about the dangers of globalism and brutal cultures infiltrating the west. Please share this article wherever you can. It is the only way we can work around their censorship and ensure people receive news about issues that Democrats and the mainstream media suppress.
Scroll down to leave a comment below.
Subscribe to Our Newsletter