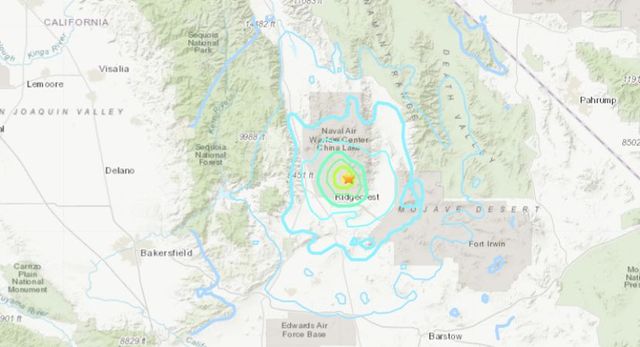 A magnitude 5.4 earthquake rattled the Mojave Desert and was felt throughout Southern California early Friday morning.
The quake struck at about 4:07 a.m. and centered about 9.7 miles west of Searles Valley, roughly 10.8 miles north-northeast of Ridgecrest, according to the U.S. Geological Survey.
Yesterday A 6.4 magnitude earthquake struck Southern California, the largest temblor to hit the region in decades.
The 10:33 a.m. quake was centered in the Searles Valley, a remote area of San Bernardino County about 100 miles from Los Angeles.
It was unclear whether the temblor caused major damage or injuries.
The quake was the largest in Southern California since the 1994 6.6 Northridge quake, which killed dozens and caused billions of dollars in damage. But the Northridge quake hit in the center of a populated area, while Thursday's quake was located far from the metropolitan Los Angeles area.
Local emergency agencies have been flooded with calls, and officials urged that people only use 911 for emergencies.
"We are very much aware of the significant earthquake that just occurred in Southern California. Please DO NOT call 9-1-1 unless there are injuries or other dangerous conditions. Don't call for questions please," the LAPD said in a statement.
There is no word yet on damage or injuries.
This is a developing story. Please check back for updates.
---
Social media censorship is suppressing the truth about the dangers of globalism and brutal cultures infiltrating the west. Please share this article wherever you can. It is the only way we can work around their censorship and ensure people receive news about issues that Democrats and the mainstream media suppress.
Scroll down to leave a comment below.
Subscribe to Our Newsletter