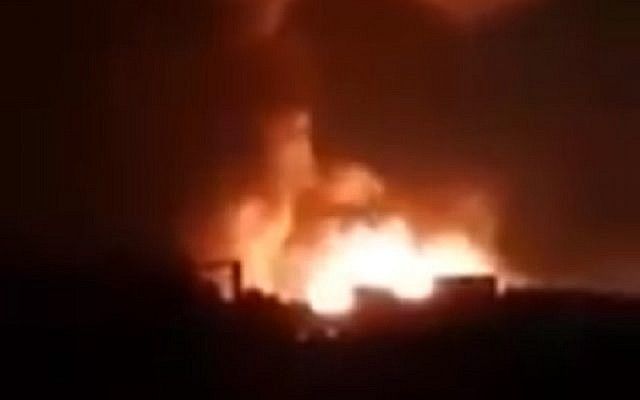 Many of us were trying to understand why anyone can point to the Iran deal as anything other than a terrible agreement that not only puts Isreal in harm's way but puts ourselves in such a bad situation
Luckily we have President Trump and things will change for Iran!
It seems that Israel is the only real ally to the USA in the middle East.
Israeli aircraft on Saturday struck Iranian forces near Damascus that had been planning to launch "killer drones" at targets in Israel, an Israeli military spokesman said.
"The strike targeted Iranian Quds Force operatives and Shiite militias which were preparing to advance attack plans targeting sites in Israel from within Syria over the last number of days," the military said in a statement.
The elite Quds Force is the overseas arm of Iran's Revolutionary Guards (IRGC). Israeli military spokesman Jonathan Conricus told reporters the forces on Thursday had been preparing to launch "killer drones" armed with explosives at northern Israel.
Video below:
CTV News reported:
Conricus said Israel had monitored the plot for several months and on Thursday prevented Iran from making an "advanced attempt" to execute the same plan. Then, Iran tried again late Saturday to carry out the same attack, he said.
"We were able to thwart this attack with fighter jets," he said, saying the Iranian attack was believed to be "very imminent."
He said Israel's chief of staff was meeting with senior officers and forces were on high alert near the Syrian frontier.
On Twitter, Israeli Prime Minister Benjamin Netanyahu called the attack by Israeli warplanes a "major operational effort."
"Iran has no immunity anywhere," he said. "If someone rises up to kill you, kill him first."
Israel has acknowledged carrying out hundreds of airstrikes in Syria in recent years, most of them aimed at arms shipments believed to be headed from Iran to its Shiite proxy Hezbollah. Direct clashes between Israel and Iranian forces have been rare.
"This was a significant plan with significant capabilities that had been planned for a few months," Conricus said. "It was not something done on a low level, but rather top down from the Quds Force."
Syrian state TV announced late Saturday that the country's air defences had responded to "hostile" targets over Damascus and shot down incoming missiles before they reached their targets.
---
Social media censorship is suppressing the truth about the dangers of globalism and brutal cultures infiltrating the west. Please share this article wherever you can. It is the only way we can work around their censorship and ensure people receive news about issues that Democrats and the mainstream media suppress.
Scroll down to leave a comment below.
Subscribe to Our Newsletter