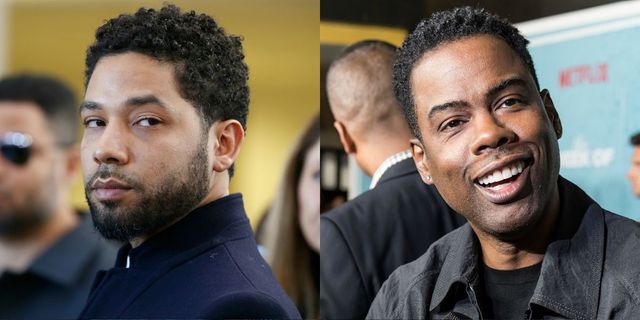 Comedian Chris Rock appeared at the NAACP Image Awards on Saturday and blasted Jussie Smollet for creating fake hate hoax attacks on himself and making false reports to the Chicago Police.
Rock took the stage and said he was told that he could not tell any Jussie Smollet jokes. However, one of the things that everyone likes about Chris Rock is that he tells it like it is and doesn't hold back.
According to ET Online:
Chris Rock isn't holding back when it comes to Jussie Smollett.
The comedian took the stage at the 2019 NAACP Image Awards at Dolby Theatre in Hollywood on Saturday, where before presenting his category took a moment to call out the Empire actor and his recent court drama.
"I have to present an award," Rock began. "They said no Jussie Smollett jokes. Yeah, I know, I know. What a waste of light skin. You know what I could do with that light skin? That curly hair? My career would be outta here. I would be f**kin' running Hollywood."
"What the hell was he thinking?" he continued. "From now on, I ain't never gonna, Juss… you a Jessie from now on. You don't even get the 'U' no more. That 'U' is respect; you ain't getting no respect from me."
Smollett was nominated for a NAACP Image Award for his work on the Fox show. However, he skipped out on the dinner on Friday where his category was announced, and lost to Jesse Williams from Grey's Anatomy. The event comes just days after all criminal charges against Smollett were dropped.
Watch the video:
Chris Rock: Jussie Smollett, You Don't Get No Respect From Me #ImageAwards50 pic.twitter.com/97vpDkLltQ

— TV One (@tvonetv) March 31, 2019

Then we have leftist celebrities like Anthony Anderson who perpetuates the idea that it's OK for for people of color to break the law, because the system is against them.
"I'm happy for him that the system worked for him in his favor because the system isn't always fair, especially for people of color," Anderson told Variety.
Smollett nor Anderson is helping the image of people of color or people of the LBGTQ community.
---
Social media censorship is suppressing the truth about the dangers of globalism and brutal cultures infiltrating the west. Please share this article wherever you can. It is the only way we can work around their censorship and ensure people receive news about issues that Democrats and the mainstream media suppress.
Scroll down to leave a comment below.
Subscribe to Our Newsletter