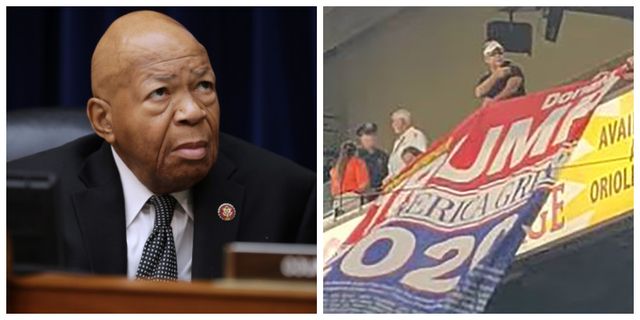 The Baltimore Orioles were taking on The Toronto Blue Jays in Rep. Cumming's district when a group of fans hung a "Trump 2020" banner from the balcony.
Many fans booed and the police and stadium security got a hold of the four fans and took them from the stadium," CBS Baltimore reported.
Video below:
The incident came amid Trump's ongoing attacks on Rep. Elijah Cummings (D-Md.) and the city of Baltimore. Some sections of the crowd chanted "take it down," tweeted Jon Meoli, a reporter for The Baltimore Sun:
According to the Orioles website, "banners are subject to confiscation if the content is commercial, political, and/or in bad taste according to the Orioles' discretion."
On what grounds was the flag removed? Hate speech perhaps? Clearly a denial of the first amendment.
---
Social media censorship is suppressing the truth about the dangers of globalism and brutal cultures infiltrating the west. Please share this article wherever you can. It is the only way we can work around their censorship and ensure people receive news about issues that Democrats and the mainstream media suppress.
Scroll down to leave a comment below.
Subscribe to Our Newsletter