Jill went out shopping on the island with Hunter's wife, Melissa.
Normally I don't comment on clothes but just have to say this is pretty hideous and so age-inappropriate. If she thinks that makes her look younger, it's just the opposite effect.
Jill Biden is no fashion doctor. Her progressive fashion sense left many wondering just what our First Lady was thinking.
Photos below: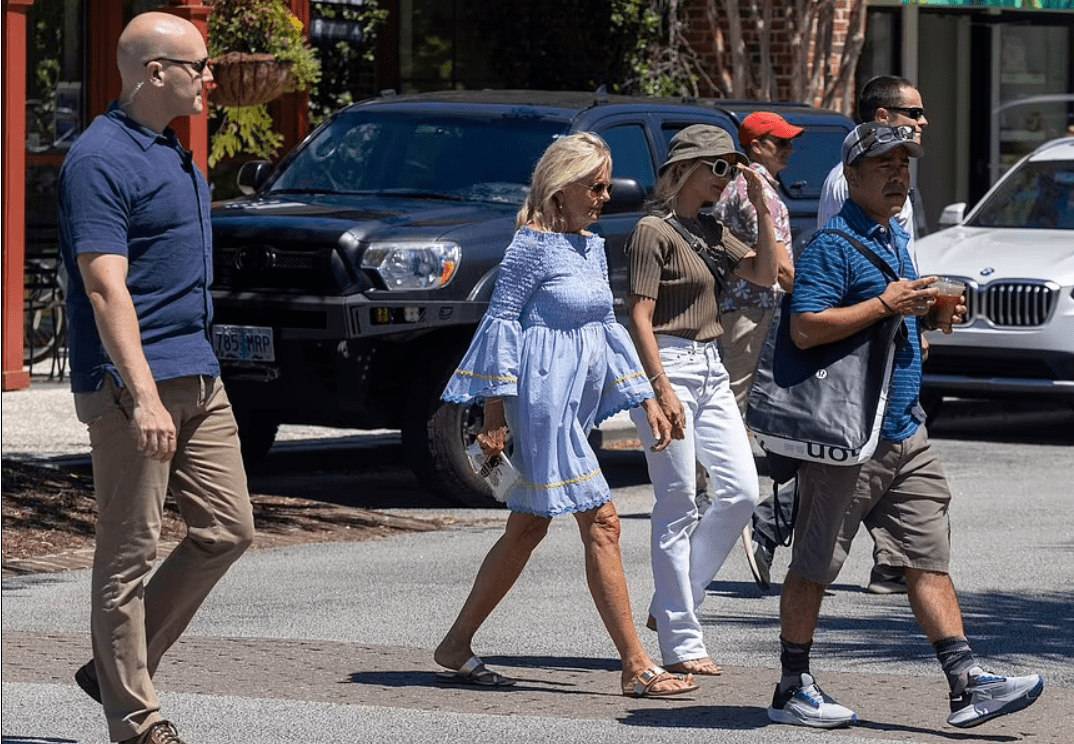 At least Jill Biden doesn't appear to be wearing a rug. The dress did draw some amusing comparisons though.
That's a diaper. pic.twitter.com/fpA4zPWY1D

— Pudge (@pudgenet) August 15, 2022
— ∅ : g̶a̶b̶r̶i̶e̶l̶s̶a̶v̶a̶g̶e̶ 🔆 (@gbrlsvg) August 14, 2022
Sheets, drapes, diapers, whatever the look, there are plenty of opportunities for improvement. Cue the photoshop.
— john (@johnhackerla) August 14, 2022
— 𝖁𝖑𝖆𝖈𝖐𝕱𝖑𝖆𝖌Ⓐ𝖗𝖙🏴‍☠️ (@blackflagart) August 15, 2022
The Daily Mail reported:
Jill Biden hit the shops on Kiawah Island Sunday afternoon with her granddaughter Finnegan Biden and daughter-in-law Melissa Cohen.

Images of the first lady shopping with Hunter Biden's wife and daughter were obtained exclusively by DailyMail.com.

Members of the first family spent about 30 minutes in Freshfields Village, which is a small shopping center on the island off the South Carolina coast.

They spent time in Indigo Books, an independent bookstore; Holly & Brooks, a fashion store; Las Olas, a swimware store; and Tina Stephens, which describes itself as a place for travel-friendly lifestyle wear.

Jill was wearing an off-the-shoulder light blue and white striped dress, Finnegan donned a white dress, and Cohen wore a white jeans and a green T-shirt.

The shopping outing came after Jill joined President Joe Biden for a bike ride along the beach Sunday morning with Finnegan.

Biden took selfies with beachgoers and told reporters he was enjoying his vacation from the White House 'a great deal' but wouldn't comment on any news of the day.
Before their shopping trip, Jill Biden and Finnegan Biden went on a ride on the beach with President Joe Biden:
Biden was spotted by reporters biking on the beach, fortunately, staying on the bike and not falling over this time. They asked him if he would answer questions and he blew them off saying he was going to buy bathing suits.
PRESS: "Mr. President, will you come talk to us?"

BIDEN: "No. Gotta go get some bathing suits." pic.twitter.com/3hl3F3YB4L

— RNC Research (@RNCResearch) August 14, 2022
The US is in a recession because of Joe Biden's policies.
Meanwhile, Jill Biden didn't have a care in the world as she leisurely shopped with her family.
Subscribe to Our Newsletter