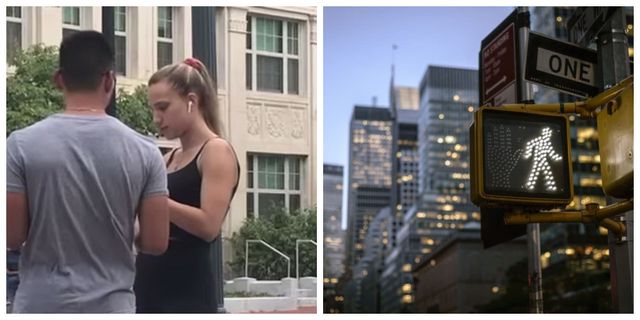 Students at George Washington University recently signed a petition to change the crosswalk sign from a 'white man' to something more diverse.
The result?
Many students — and even a faculty member — were totally on board.
In an attempt to test how deep concerns about "offense" and "oppression" go at GW, Campus Reform went undercover to the university to see if students would sign a new petition, this time calling for the banning of white stick figures in walk signals.
"As we students cross the street, we are told by the symbol of a white man when it is okay to cross," Campus Reform's faux petition reads. "Many students from diverse backgrounds, including individuals of color, gender fluid individuals, and LGBTQA+ individuals, feel oppressed by this." Students who sign the petition are supposedly letting the university know that they "vehemently urge the University to consider changing the crosswalk signs."
Many students were in favor of the petition. One educator was also on board with the proposed change. Just one student voiced dissent, saying he was "ideologically opposed" to the idea of making the crosswalk sign more inclusive.
Here are some of the more interesting remarks and responses to the petition below:
"I can see like, I guess, why some students have a problem with it … I'll totally sign that."
"That's so cute! Oh, my God, yeah."
"Oh, that's so lit."
"There's definitely a lack of representation [in the crosswalk sign]."
"I assume it's one of many ways in which the default is imagined to be a white man …"
"That's a good idea!"
"It's definitely a representation issue."
Watch the video below:

---
Social media censorship is suppressing the truth about the dangers of globalism and brutal cultures infiltrating the west. Please share this article wherever you can. It is the only way we can work around their censorship and ensure people receive news about issues that Democrats and the mainstream media suppress.
Scroll down to leave a comment below.
Subscribe to Our Newsletter