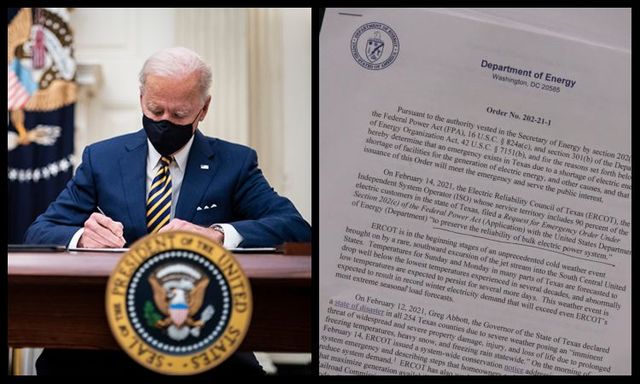 OPINION
Governor Greg Abbott has issued a disaster declaration for all 254 counties in Texas on Feb 12 as a winter storm struck the state.
With the declaration, Abbott deployed state resources to help local officials responding to problems caused by the storm.
"I thank President Biden for quickly issuing a Federal Emergency Declaration for Texas as we continue to respond to severe winter weather conditions throughout the state," said Governor Abbott. "This disaster declaration provides Texas with additional resources and assistance that will help our communities respond to this winter weather."
The Texas State Operations Center has expanded its daily operations to 24-hours a day through the end of next week.
"Texas should heed the guidance of their local leaders and stay alert to changing weather conditions in their area," said Governor Abbott. "These resources will help us respond to this severe winter weather and keep our communities safe. The State of Texas remains in close contact with officials on the ground and will provide any additional resources and support that are needed."
But what happened next is causing huge controversy.
The federal government under Biden had ordered restrictions reducing local capacity & ERCOT started rationing power due to emissions into the environment & further ordered OUTSIDE power usage which increases power bills.
Images below: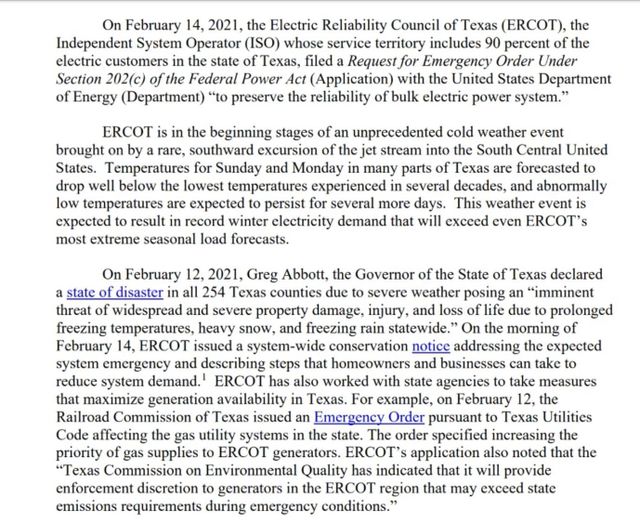 People are freezing and limiting environmental emissions is the major discussion here.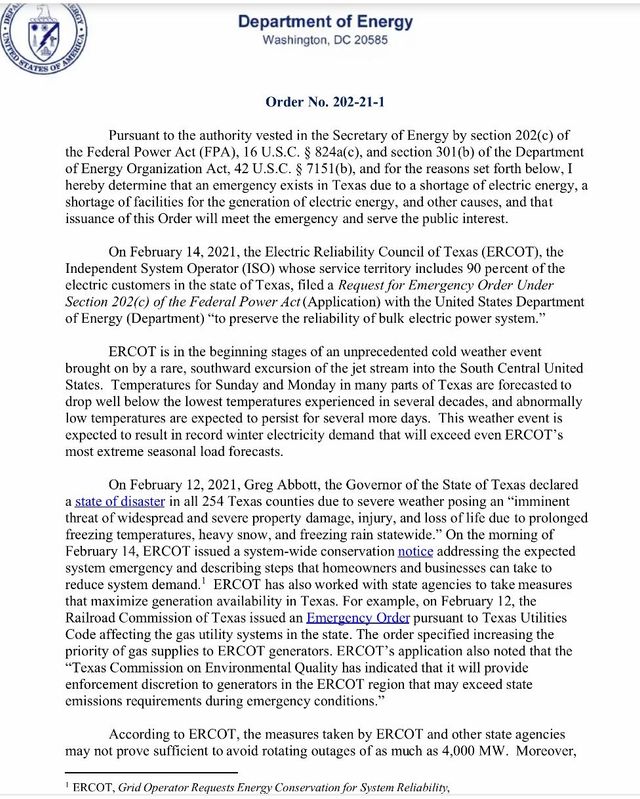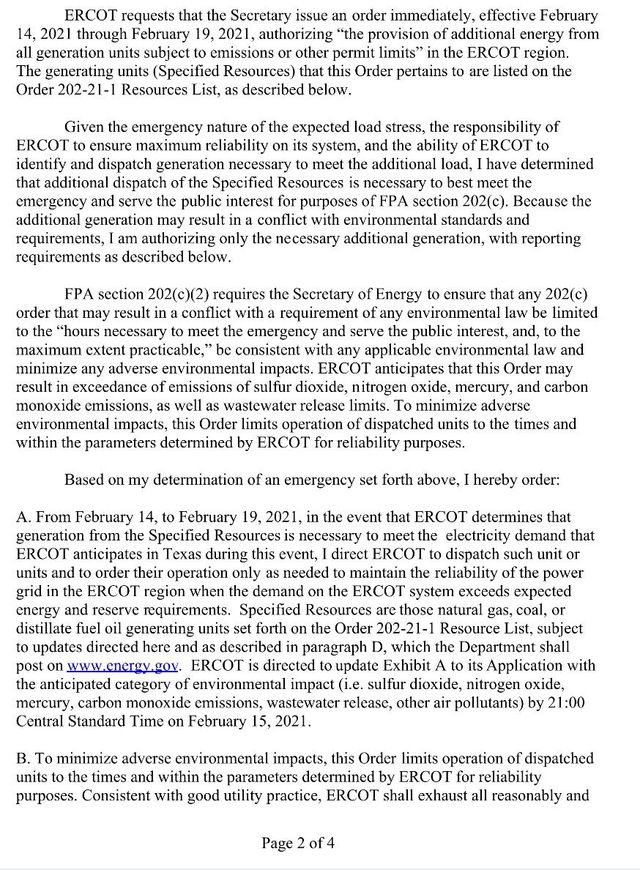 Let me explain this further. This fiasco in Texas happened due to Biden Admin environmental limits on energy production. The emergency order increases it, but:
"To minimize adverse environmental impact this order limits operation"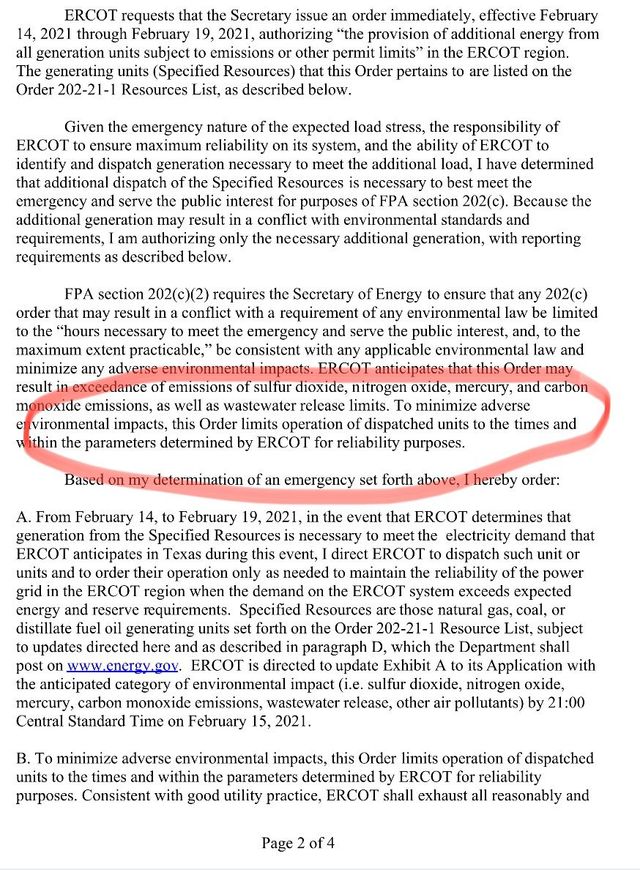 Texas is the only one of the contiguous 48 states with its own stand-alone electricity grid, one of the three main grids in the U.S.: the Eastern Interconnection, Western Interconnection, and Texas Interconnection. The Texas Interconnection, which covers 213 of the 254 Texas counties, is managed by the Electric Reliability Council of Texas, or ERCOT. Portions of Texas near the state's borders are covered by the eastern and western grids.
Texas produces more electricity than it consumes and maintains a buffer referred to as the "state's reserve margin." This margin ensures that we should never have to suffer from rolling blackouts like California.
Then why are so millions of Texans without power right now? Why are we dealing with rolling blackouts?
The answer is all-too-familiar: our relationship with the federal government.
Keep in mind, Governor Abbott declared a State of Disaster for the entire state as of February 12. Blandly-named government order number 202-21-1 concludes with these words: "Issued in Washington, D.C. at 8:51 PM Eastern Standard Time on this 14th day of, February, 2021."
ERCOT has been alerted that numerous generation units will be unable to operate at full capacity without violating federal air quality or other permit limitations. ERCOT requests that the Secretary issue an order immediately, effective February 14, 2021 through February 19, 2021, authorizing "the provision of additional energy from all generation units subject to emissions or other permit limits" in the ERCOT region. The generating units (Specified Resources) that this Order pertains to are listed on the Order 202-21-1 Resources List, as described below.
Given the emergency nature of the expected load stress, the responsibility of ERCOT to ensure maximum reliability on its system, and the ability of ERCOT to identify and dispatch generation necessary to meet the additional load, I have determined that additional dispatch of the Specified Resources is necessary to best meet the emergency and serve the public interest for purposes of FPA section 202(c). Because the additional generation may result in a conflict with environmental standards and requirements, I am authorizing only the necessary additional generation, with reporting requirements as described below.
…In the event ERCOT identifies the need to exceed other relevant environmental permitting levels, ERCOT shall specifically identify such permitting levels and DOE will consider ERCOT's request in good faith.
C. All entities must comply with environmental requirements to the maximum extent necessary to operate consistent with the emergency conditions. This Order does not provide relief from an entity's obligations to purchase allowances for emissions that occur during the emergency condition or to use other geographic or temporal flexibilities available to generators.
People's lives are in shambles, but rather than prioritizing a nimble and effective response to getting people back to their normal lives, they are prioritizing using favored sources of energy and not 'overproducing'.
Officially DOE will probably say that they sent a warning that ERCOT does not exceed the amount of generation absolutely needed to restore power and keep Texas homes warm." And that the allegations are unfounded.
In a Feb. 14 letter, ERCOT said that it, "understands the importance of the environmental permits that are at issue. However, in ERCOT's judgment, the loss of power to homes and local businesses … presents a far greater risk to public health and safety than the temporary exceedances of those permit limits."
The Biden administration may be blamed at a later date for leaving two-thirds of the state's counties without an encompassing disaster declaration and attached aid and nothing else.
Update:
ERCOT Operations Have Returned To Normal, And We Are No Longer Asking For Energy Conservation
ERCOT operations have returned to normal, and we are no longer asking for energy conservation. Thanks for helping the grid during this very difficult time.

— ERCOT (@ERCOT_ISO) February 19, 2021
Fact-checkers denied these rumors as false, "This thread is false," Michael Webber, a professor at the University of Texas at Austin who specializes in energy sources, told us in an email. "DoE did not hinder Texas' response."
They claim that the DOE's Huizenga signed the electric emergency order late on Feb. 14, putting it into effect through Feb. 19. The order permitted power plants to temporarily exceed certain environmental restrictions in order to reach maximum output during times of energy emergency alerts by ERCOT.
In a notice, ERCOT notified market participants of the approval. The request to DOE said that, if an electric-generating unit was unable to produce its maximum output because of an emissions restriction or "other limit in any federal environmental permit," then the operator would be able to bypass those restrictions — but that the "incremental amount of restricted capacity would be offered at a price no lower than $1,500/MWh."
The letter later referred to this pricing as "a separate mechanism to help ensure this capacity is deployed only when absolutely necessary."
Webber, the professor at the University of Texas at Austin, said that cost was a "minimum price" that would ensure plants permitted to bypass environmental restrictions were not given an unfair advantage.
"Emissions controls cost money," he said. "It would be unfair to let some power plants turn off their emissions controls, which lowers their operational costs, and then to use that lower cost to underbid other generators who responsibly left their controls in place."
Ted Kury, director of energy studies for the Public Utility Research Center at the University of Florida, said "when wholesale prices get high, the market operator is actually hoping that this sends a signal to folks to stop using electricity." That works for, say, large companies — but it often ends up being punitive for residential customers.
---
Social media censorship is suppressing the truth about the dangers of globalism and brutal cultures infiltrating the west. Please share this article wherever you can. It is the only way we can work around their censorship and ensure people receive news about issues that Democrats and the mainstream media suppress.
Scroll down to leave a comment below.
Subscribe to Our Newsletter