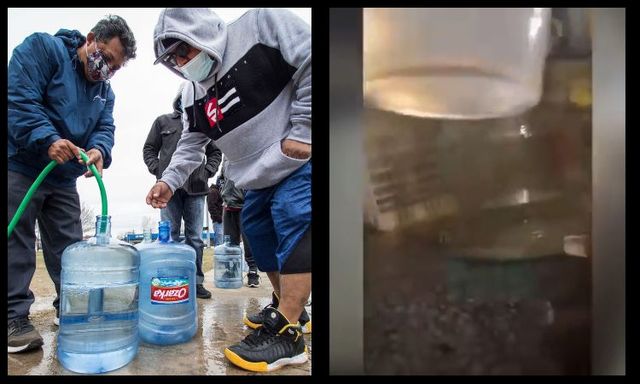 After enduring multiple days of freezing temperatures and Texans dripping faucets to prevent frozen pipes from bursting, cities across the state warned residents that water levels are dangerously low and may be unsafe to drink.
They're telling Texans to boil tap water for drinking, cooking, brushing their teeth, and making ice — as residents have been struggling to maintain power and heat while an unprecedented winter storm whips across the state.
While activities such as showering and doing laundry are safe, cities underwater boil notices are asking people to conserve water if at all possible.
Approximately 590 public water systems in 141 Texas counties have reported disruptions in service, affecting nearly 12 million people, according to a Texas Commission on Environmental Quality spokesperson.
Houston mayor Sylvester Turner advised residents of the southern city, the fourth-largest in the US, to boil theirs until Sunday or Monday in the interests of safety.
"The water is not clean for us and so, we shouldn't drink it, we shouldn't cook with it, and we shouldn't give it to ourselves to drink or even to our pets," local physician Dr. Christine Le told ABC 13. "We have to be very safe at this time."
"It's very dirty, lots of germs, there could be viruses in there, hepatitis, there could be bacteria. These are germs that could definitely get a person very ill, get their pets ill, send you to the hospital… during this trying time, that's just not something that could be very helpful for any of us."
It seems that it might take more time until the water is drinkable because videos from this morning posted by concerned Texans show parasites in the water.
Videos below:
Texas: Parasites in the water pic.twitter.com/vVSrQZ5cUT

— Tony (@Mrtdogg) February 21, 2021
— Tony (@Mrtdogg) February 21, 2021
— Tony (@Mrtdogg) February 21, 2021
Many Texans ignored the warning from the authorities, but maybe these videos can help them understand that the water is just dangerous to drink in these difficult times.
The issue remains fresh in the minds of Texans after the city of Lake Jackson, south of Houston and inland from the Gulf of Mexico, suffered a tragedy on 8 September 2020 when six-year-old baseball fan Josiah McIntyre died five days after coming into contact with a single-celled amoeba, Naegleria fowleri.
---
Social media censorship is suppressing the truth about the dangers of globalism and brutal cultures infiltrating the west. Please share this article wherever you can. It is the only way we can work around their censorship and ensure people receive news about issues that Democrats and the mainstream media suppress.
Scroll down to leave a comment below.
Subscribe to Our Newsletter