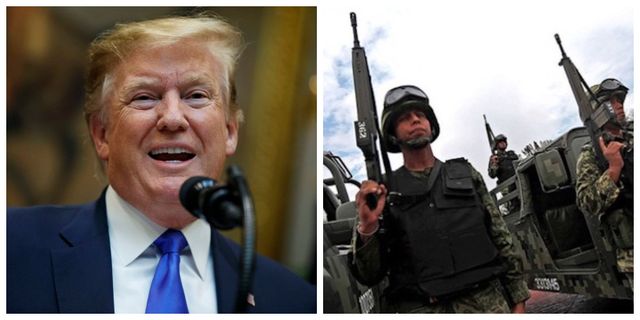 Two US soldiers were questioned by Mexican troops earlier this month while conducting a surveillance operation on the US side of the southern border, two US defense officials tell CNN.
The story wasn't out for a month until now!
But luckily we have President Trump who will not tolerate behavior like this!
He said that he plans to send "armed soldiers" to the southern U.S. border, once again blasting Mexico for "not doing nearly enough" to apprehend migrants.
"Mexico's Soldiers recently pulled guns on our National Guard Soldiers, probably as a diversionary tactic for drug smugglers on the Border," he wrote in a Wednesday morning tweet. "Better not happen again! We are now sending ARMED SOLDIERS to the Border. Mexico is not doing nearly enough in apprehending & returning!"
"On April 13, 2019, at approximately 2 p.m. CDT, five to six Mexican military personnel questioned two U.S. Army soldiers who were conducting border support operations in an unmarked (Customs and Border Protection) vehicle near the southwest border in the vicinity of Clint, Texas," US Northern Command told CNN in a statement.
"Throughout the incident, the U.S. soldiers followed all established procedures and protocols," Northern Command said in a statement.
While the two U.S. troops were on the south side of the security perimeter, officials say that they were still north of the Rio Grande and thus were firmly inside American territory. After the incident, military and Department of Homeland Security officials sent an inquiry to the Mexican government demanding an explanation.
"An inquiry by CBP and DOD revealed that the Mexican military members believed that the US Army soldiers were south of the border," said Northern Command, referring to Customs and Border Protection and the Department of Defense.
"Though they were south of the border fence, U.S. soldiers remained in U.S. territory, north of the actual border," the statement said, adding that "after a brief discussion between the soldiers from the two nations, the Mexican military members departed the area."
Share this if you support Trump's decision!
---
Social media censorship is suppressing the truth about the dangers of globalism and brutal cultures infiltrating the west. Please share this article wherever you can. It is the only way we can work around their censorship and ensure people receive news about issues that Democrats and the mainstream media suppress.
Scroll down to leave a comment below.
Subscribe to Our Newsletter