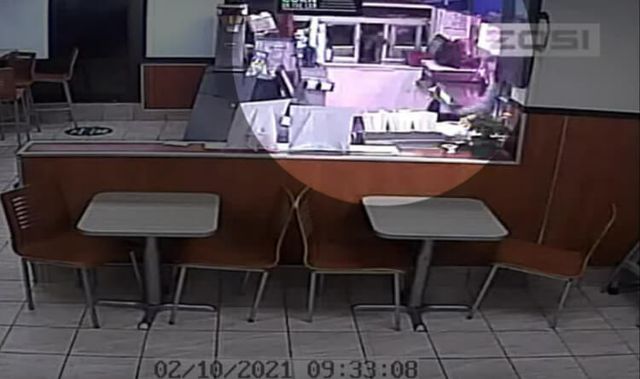 Texas authorities say an armed customer intervened during the attempted robbery of a fried chicken fast food restaurant, fatally wounding one gunman and sending a second suspect struck by gunfire to the hospital.
Port Arthur police responded around 8:45 p.m. to an aggravated robbery happening at the Church's Chicken location at 1849 Jefferson Drive. Detectives learned that two suspects armed with handguns were robbing the restaurant, but an armed citizen intervened and a shootout ensued.
The Jefferson County District Attorney's Office has released a video to us that some of you may find disturbing.
It shows how an armed citizen confronted and shot two robbers. The two men with firearms tried to rob Church's Chicken on Jefferson Drive in Port Arthur last October 1. They forced employees to the back of the business and removed cash from the safe.
A man with a concealed handgun license at the drive-thru saw what was unfolding. He got his personal weapon and fired at both robbers through the window.
Video below:
District Attorney Bob Wortham says the actions of that armed citizen likely saved lives.
"He's a hero," said Wortham. "He did what needed to be done. If more citizens would take an active role when someone is being robbed, we would have less murders."
A judge sentenced Desmond Ingram Jr. to 30 years in prison for Aggravated Robbery. Ricardo Guient died at a hospital.
OPINION: This article contains commentary which reflects the author's opinion
Reminder: The purpose of the articles that you will find on this website, are to EDUCATE, not to disinform or grow hate and anger!
---
Social media censorship is suppressing the truth about the dangers of globalism and brutal cultures infiltrating the west. Please share this article wherever you can. It is the only way we can work around their censorship and ensure people receive news about issues that Democrats and the mainstream media suppress.
Scroll down to leave a comment below.
Subscribe to Our Newsletter